Your First Visit
At Refresh Dental in Berkeley, we strive to make not only your first dental visit, but all your dental visits comfortable, convenient, and efficient. We offer:
Attentive and Friendly Staff
Comfortable, Anxiety-Free Care
Easy Check-in & Checkout Procedures
Minimal Paperwork
On-Time Scheduling
New Patient Forms
Please arrive at Refresh Dental 15 minutes before your dental appointment so that you can fill out the new patient paperwork. While you wait, please take advantage of our complimentary refreshment bar.
We know that dental care can be confusing and scary. To learn more about your oral health so that you are well-informed before your visit, take some time to read over some dental facts.
For your convenience, we have uploaded our new patient forms and some dental facts. You can download, print, and complete the forms at home so that you don't have to fill them out in the office. Adobe Acrobat Reader is needed to download these forms.
Scheduling Your First Visit to Refresh Dental
At Refresh Dental, we are committed to running on time and staying on schedule. We do not double book our dental appointments—your appointment is reserved especially for you!
Unfortunately, emergencies can happen that can push us behind schedule. We will make every effort to get back on schedule and get you out the door as quickly as possible. We will do everything we can to run on schedule.

During Your First Dental Visit
During your first appointment at Refresh Dental, our hygienist will take digital X-rays of your mouth, teeth, and jaw. After the X-rays are complete, our hygienist will check your teeth for decay and cavities using Diagnodent®, a laser-assisted, cavity-detection device. Diagnodent technology allows our dentists to see decay before they would be able to see it with the naked eye. Our hygienist will also measure your gums to determine the best type of dental cleaning for you. After your cleaning, you will meet with one of our dentists to discuss your medical records and exam findings. This is a great opportunity for you to discuss any dental concerns or goals you may have.
We will make sure you have plenty of one-on-one time with a hygienist and your dentist. We want you to leave Refresh Dental with a beautifully clean smile and a feeling of satisfaction.
We look forward to meeting you!
Additional Dental Treatment
If you need additional dental treatments, you can request that we start your dental procedures immediately after your dental cleaning. This will save you several trips to Refresh Dental, and it allow us to practice preventive dentistry so that your dental issues do not get worse.
Dental Emergencies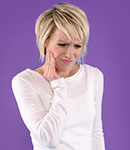 When you are in dental pain, you cannot wait for the next available appointment—You have to be seen right away! Call us immediately, and we will do our best to relieve your dental pain and fix your dental issue the same day you come in!
Schedule your appointment with us today!